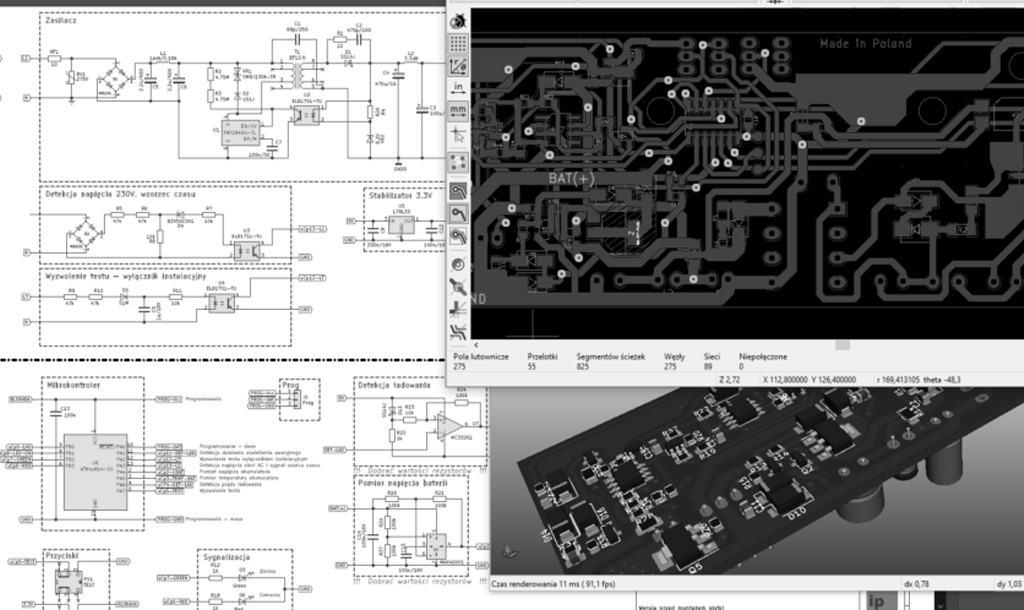 We will design the device you need and then produce it for you.
Own design facilities
Our staff are specialists in general electronics, digital technology, microcontroller programming and power electronics.
We use specialized software for calculations, simulations and design of electronic circuits
We design devices from scratch, in accordance with customer requirements. In our design work, we also take into account the requirements related to the appearance of the device. In this respect, we cooperate with industrial designers.
We have experience in the design and production of light sources, converters and microprocessor controllers dedicated to customer needs, used, among others, in ventilation and acoustic alarms.
Own technical facilities
Our technical staff is competent in making prototype devices in accordance with design requirements.
We have our own technical facilities equipped with equipment enabling the creation of prototypes and research stations (we use, among others, a CNC machine, a 3D printer, a milling machine, a lathe, etc.).
Own laboratory facilities
We have our own laboratory and qualified technical staff who are competent in measurement verification of the devices we design.
Our laboratory is equipped with research equipment for measuring electrical and non-electric quantities, in particular current, voltage, power, energy, EMC interference, temperature, light intensity, sound intensity, rotational speed, temperature field and many others.</li >
For the purposes of design research and production, our laboratory also creates our own research stations and automated systems for testing series products.
Own production facilities
We have our own production facilities, where we produce devices designed by us and counter production.
Our production process includes:

assembly of production components,
applying paste or glue to SMD elements using a stencil printer,
automatic assembly of SMD components using SMD machines,
soldering or gluing elements in a reflow oven,
assembly and soldering of THT elements using manual soldering stations or on a wave soldering line
mechanical assembly of finished devices,
testing, marking, packaging and forwarding of finished products.